Medical Pads (Kill Germs)
The Inner non-woven fabric wipe was moisten by the 70% Isopropyl Alcohol formula that make it to be a great disinfection product for hospital use, Household first-Aid use, office cleaning.
Except for the 70% IPA type, the 75% IPA, 90% IPA, 99% IPA is a optional.
Medical Pad size: 3*6 cm, 6*6 cm, 15*15 cm,15*20 cm for optional.
Accept customized size and packing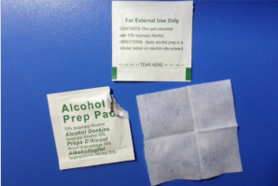 How does the medical pad work?
Hospital Use
This medical pad is perfect choice for the skin prep before Injection, medical puncture, Minor operations, e.t.c
This medical pads could be also used for cleaning the medical facility, device surface. It is easy to use and good work for the plastic, metal, wood surface. No scratching damage.
Easy to remove the fingerprint, skin sebum residue, sweat stain, dust pot, kill germs on the surface.
First-Aid Use
There are always sudden things happened which result in injury. So most family keep the medical box for first aid use in home.
The medical disinfection pads will be a great useful and helpful part for the medical first aid use.
It is sealed and moisten wet wipe by sachet. So you just tear it open and use it directly for disinfection on the skin. And the medical pad is easy to store.
Household and office use
The keyboard, mouse, telephone, the smartphone screen, the laptop, the computer,calculator, the cup, the POS terminal, the ATM machine, the Iphone IPAD, Ipod, airbook, camera...
There are so much device that you use much everyday.
Believe it or not, we bet they are dirty as the toilet seat.
Look at your smartphone screen, is there any fingerprint or skin sebum on the screen?
Why don't you take out a piece of medical pad to disinfect these device?
It will cost you several cents and 1 minute but offer you clean and healthy device in return by using the medical disinfectant pads.
Welcome to be our agent/distributor worldwide.
Welcome customized and Private label.
Related Reading: Isopropyl Alcohol Wipes Medical Alcohol Pads